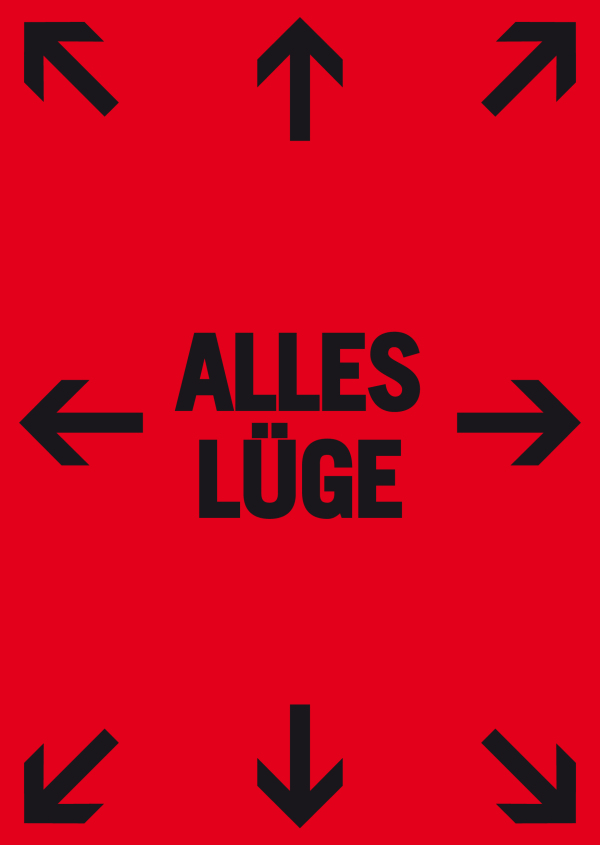 Kai Bergmann
All a lie
The Poster has two levels of meaning:
A direct one – when the poster – surrounded by advertising messages – sticks on a billboard.
And an epistemological one – on the critical definition of the objectivity of the »Radical Constructivism«.
But a good poster explains itself.
Germany
2013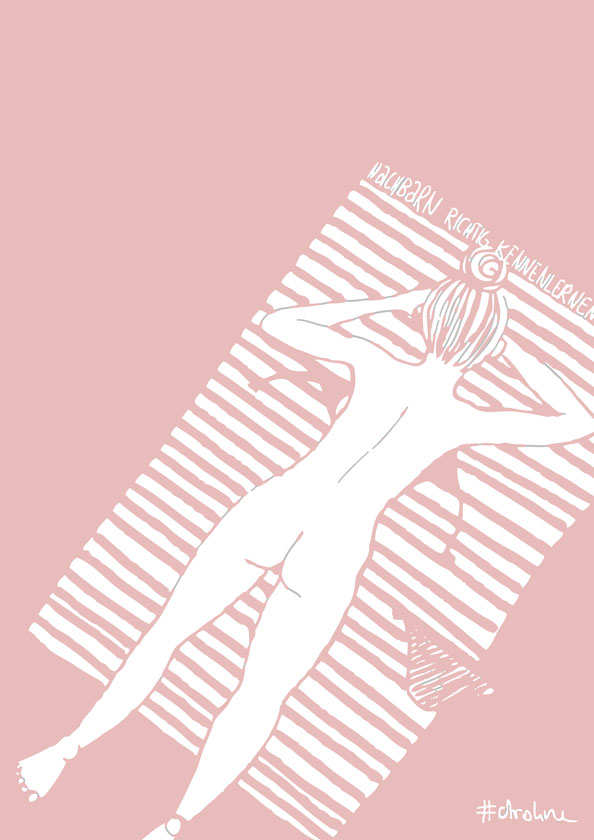 Katja Ivanchenko
Drone
As we all are glass people already, it does'nt make a difference when we present ourselves blatantly and liberal to drones. (Irony)
Germany
2015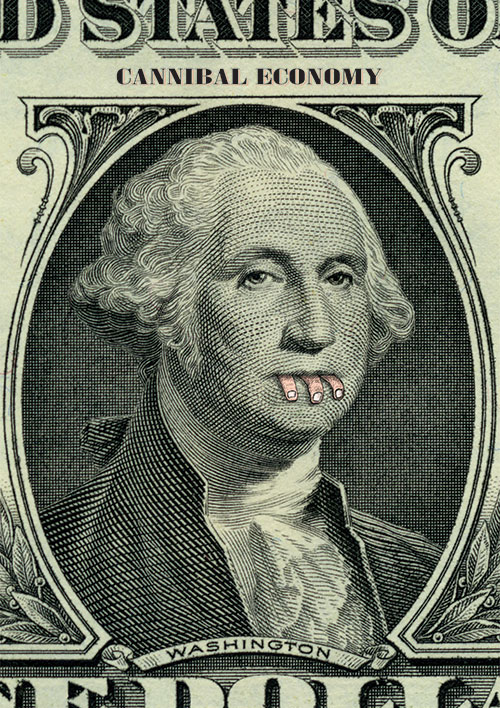 Victor Santos
Cannibal Economy
The motive: the periodical capitalist crisis dramatic shows, that for this profit economic system of the human being is disposable, the life of millions is a throwaway to "save" a tiny group of banks and companies.
Mexico
2012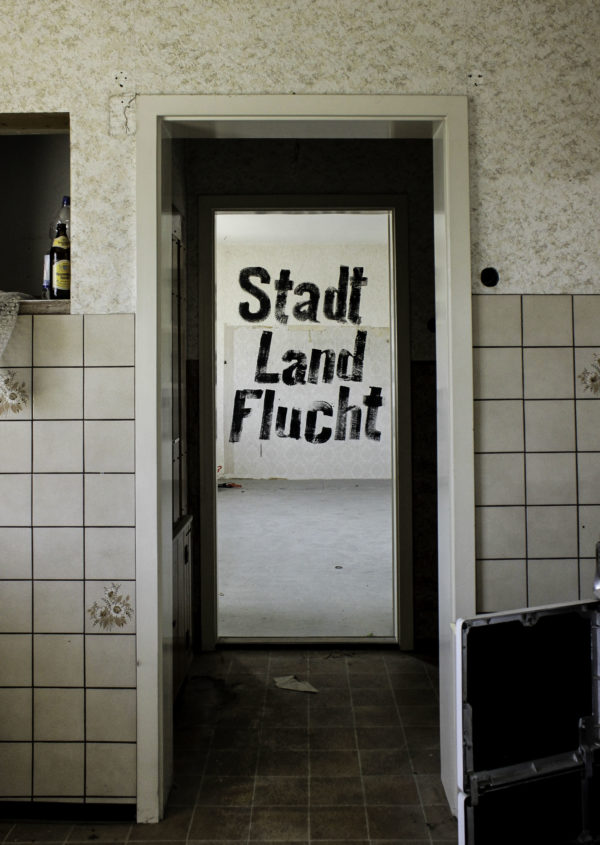 Lorenz Grohmann
Rural Exodus
Most major german cities are bursting at the seams, the rents go into the absurd, many residents suffer from the narrows and often flee into nature. Meanwhile, rural areas slowly but surely are orphaned: abandoned villages, old people and lack of prospects determine the picture. Young, motivated residents flee to the cities – a vicious circle.
Germany
2019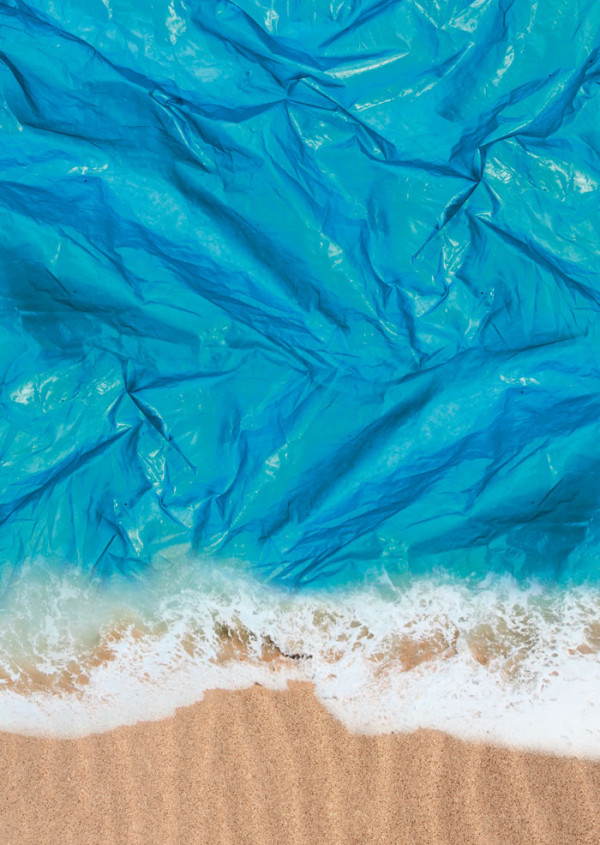 Martina Windrich
Drowning in Plastic
The increasing amount of plastic in our oceans changes the life of millions of sea creatures. They are literally drowning in plastic. Therefore, this idea raises the question how long it may take until this flood of plastic will be washed to our shores and drown humanity? Do not ignore the threats of plastic for our planet just because you do not see it.
Germany
2016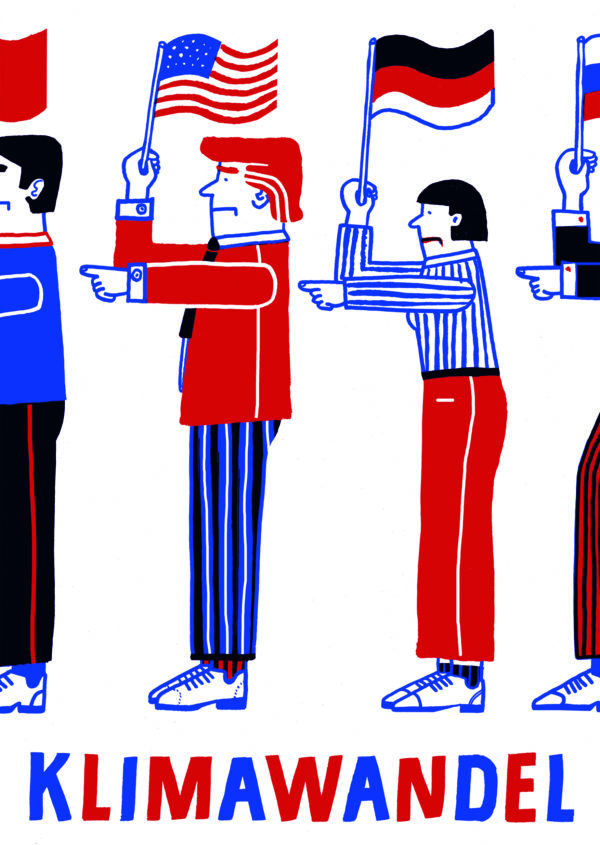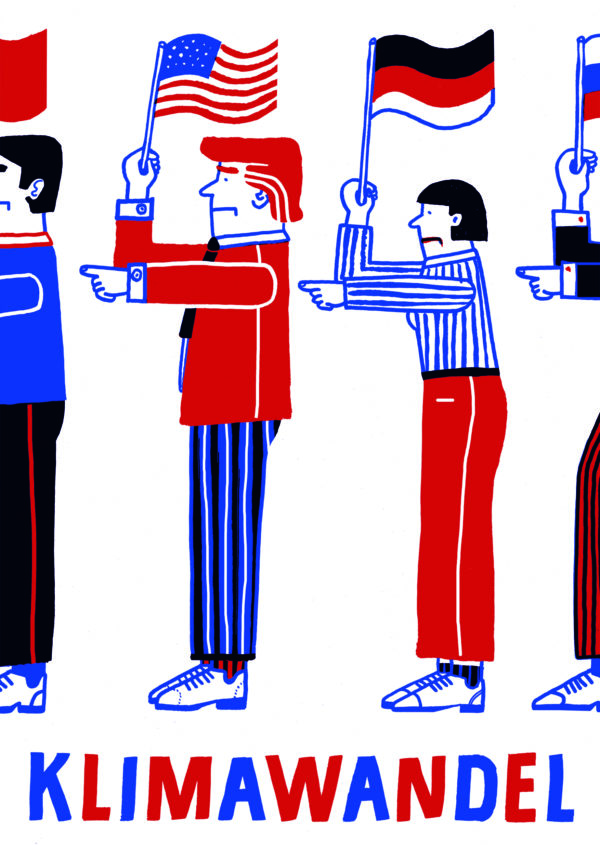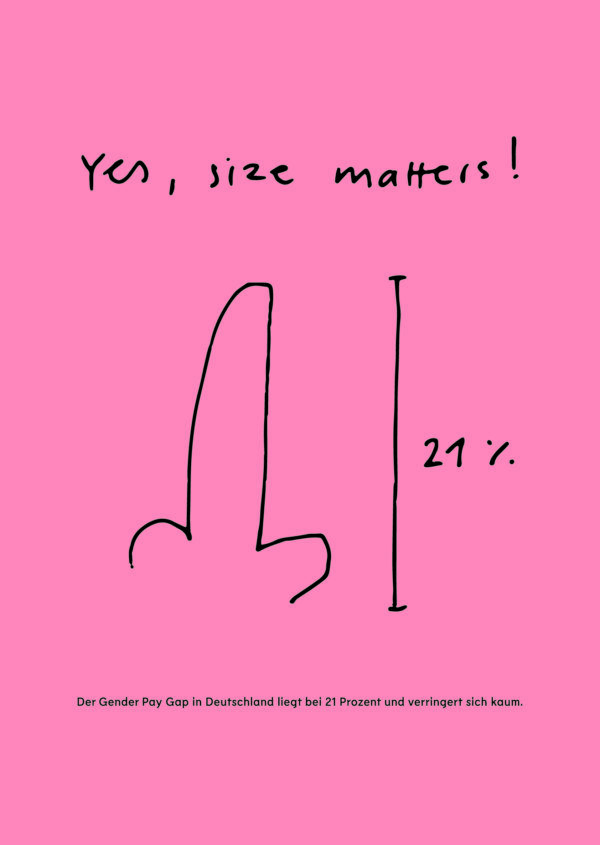 Laura Markert
Size matters – mind the gap!
The fact, that in Germany women compared to men are still paid 21 percent less is unbelievable and totally not appropriate nowadays. I really asked myself how being a "man" (ergo someone having a penis – definition is also out-of-date by the way) brings that somebody to earn and deserve more?
Size obviously matters!
Germany
2019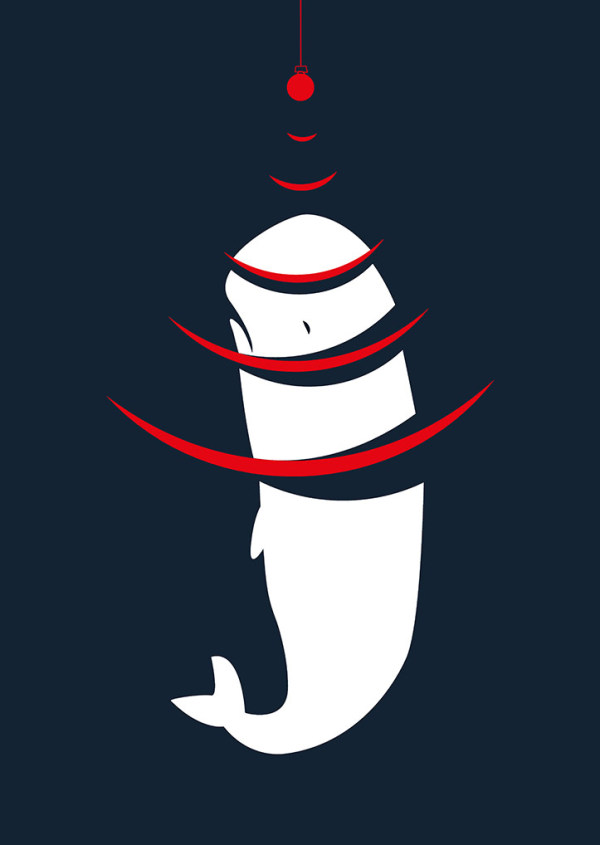 Claudia Wieczorek
Deadly waves
My poster shows a whale being symbolically cut into pieces by sound waves.
The noise exposure under water is constantly increasing; cargo ships, navy sonar systems, the installation of offshore wind parks, ships looking for oil and gas, altogether form an immensely, continuous noise.  Whales and other water creatures are losing their orientation, as they are communicating by ultrasound and their orientation is disturbed.
Hence they are driven away from reproduction and nutrition places, lose their group, some get deaf. Whole schools of whales stranded after seismic examinations and sonar experiments, used in order to find oil. The animals concerned die in a torturous way, and are finally found with internal bleedings and damaged acoustic organs at our beaches.
They tried, without any orientation, to flee from the acoustic noise surrounding them.
Germany
2014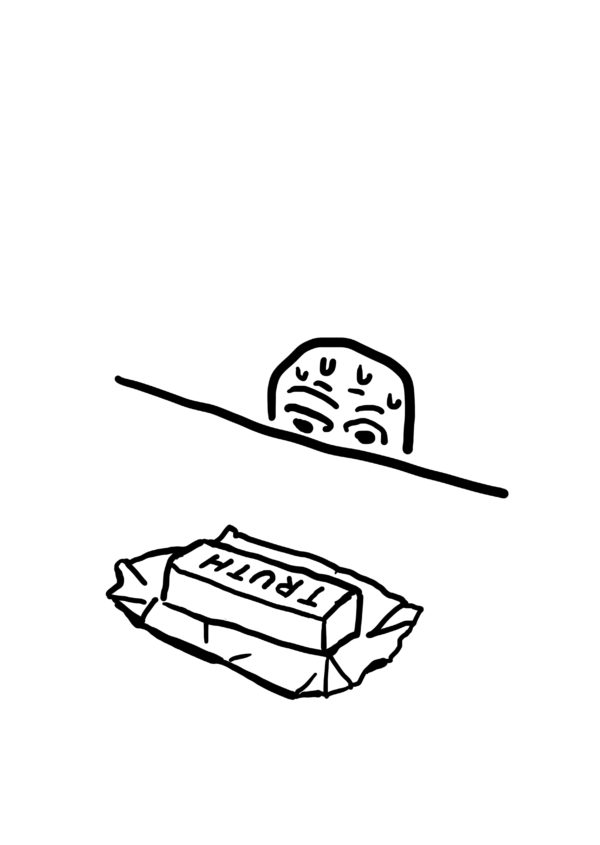 Martin Rybacki
Truth
A person is noticibly nervous and even frightened by what reveals itself on the table after the package is opened – the person is frightened so much that he or she almost does not dare to look at it.
My idea deals with the individual and his or her fear and unwillingness to accept personal responsibility for the (often brutal) truth in his or her own life. The opportunity to bear this responsibility reveals itself not only in difficult situations but also in seemingly trivial ones. I believe that avoiding your responsibility for the truth has severe individual and global consequences.
Germany
2017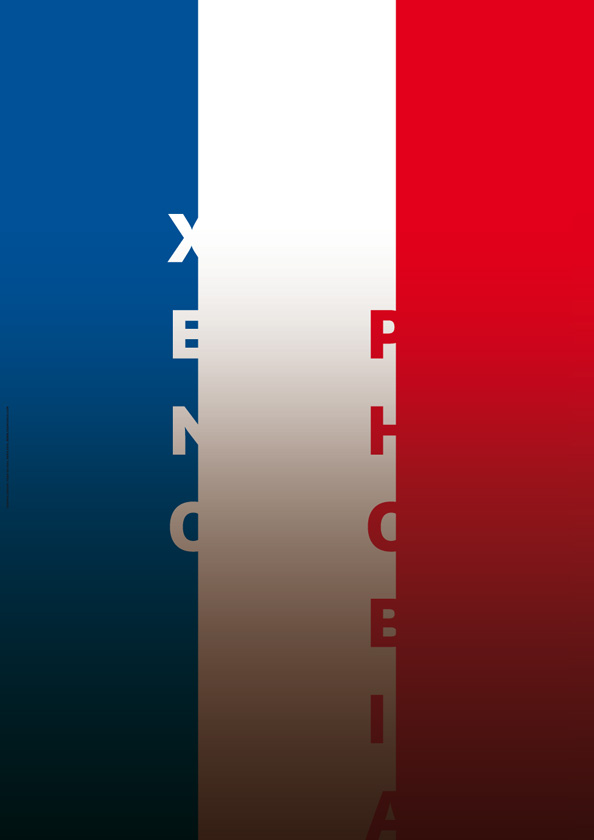 Germany
2010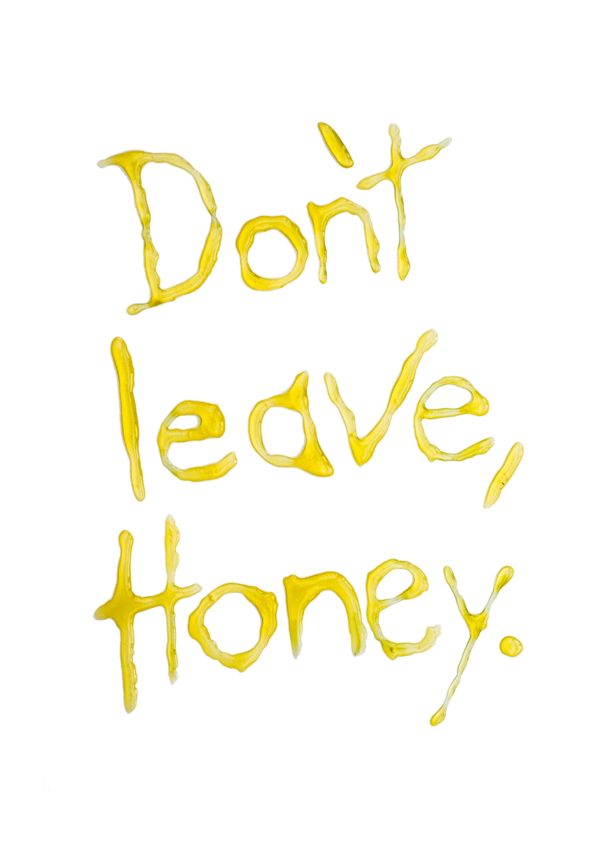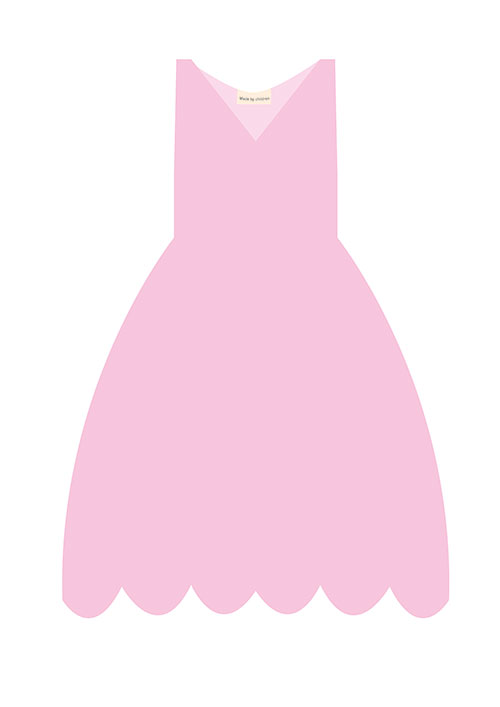 Lea Lippelt
Handmade
Many of the things we wear are made by kids. Child labour is still an issue and can not be forgotten about. This what I want to draw attention to with my poster. Clothing sold in Germany may also be made by children. The dress I used is meant to show that no matter how beautiful an item may be, it might come from a place that is just the opposite.
Germany
2012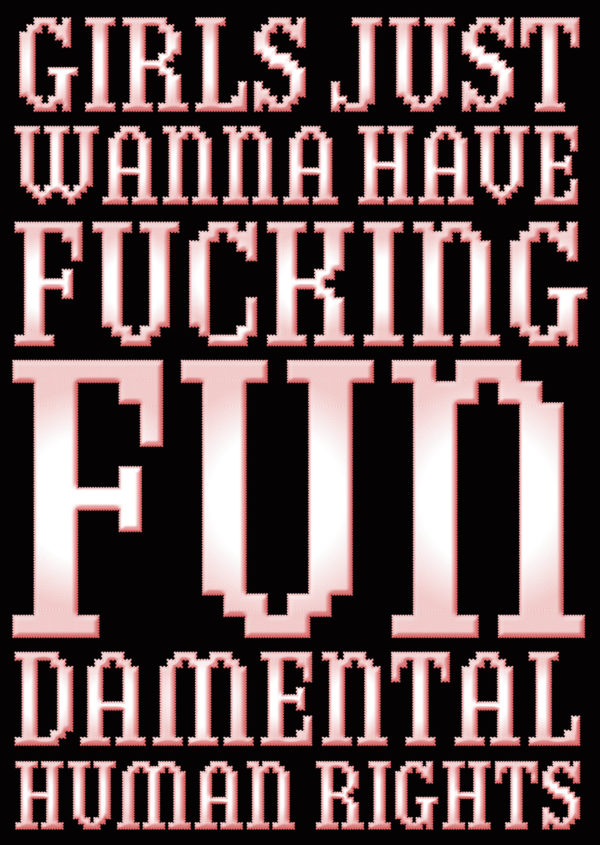 Rikke Hansen
Fucking Fun(damental)
Over 70 years ago the fundamental human rights were enshrined by the United Nations for every human being on the planet – Yet almost everywhere around the world, women and girls are still denied them, often simply because of their gender. Ranging from the right to live free from violence and discrimination – including domestic violence, sexual assault, forced marriage, trafficking and awful practices such as female genital mutilation. To the right to be educated; to own property; to vote; to run for office; to earn an equal wage.
Denmark
2021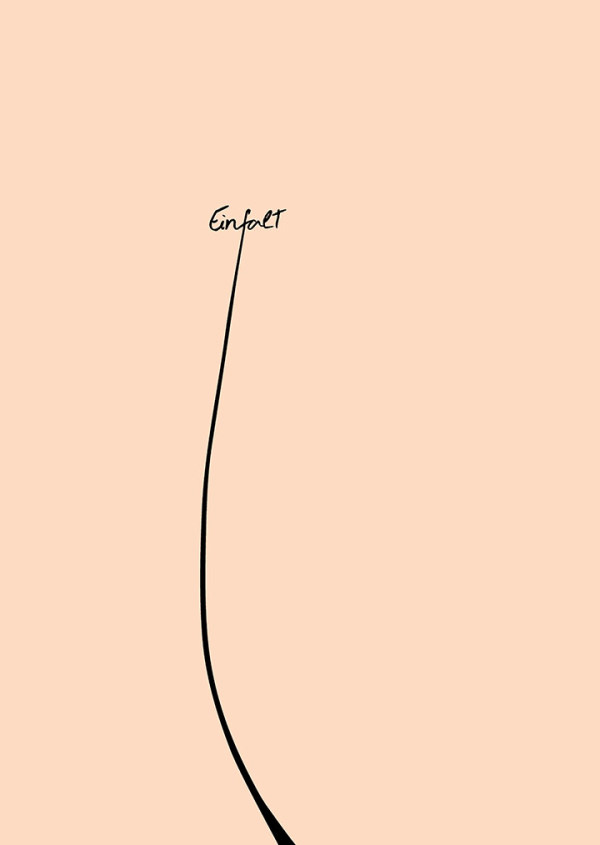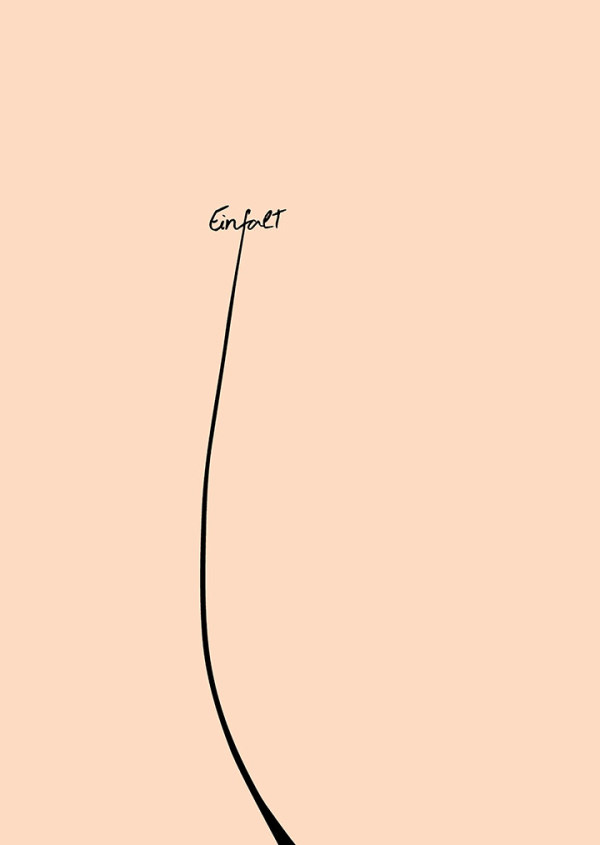 Till Kraschutzki
Simplemindedness is for the butt
The German word "Einfalt" (Simplemindedness), which denotes a certain narrowness of mind is made up composed of the word "ein" and the word "falt".
So far "Einfalt" – following the word origin – is just something that applies to the human behind.
Germany
2014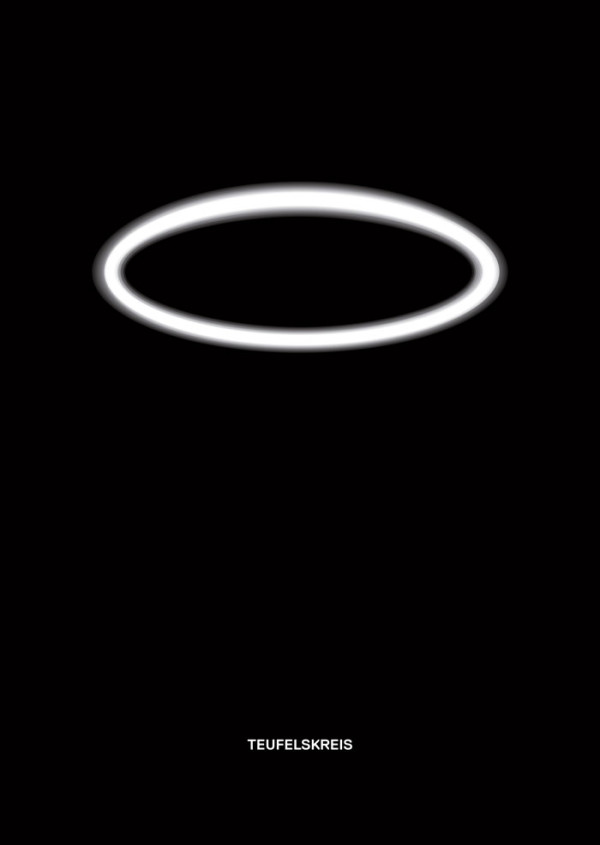 Michael Reichen
Vicious circle
Being stuck in a fundamental inerrant religious pattern and therefore feeling infallible and unmistakable, prone to evading one's responsibility.
Switzerland
2016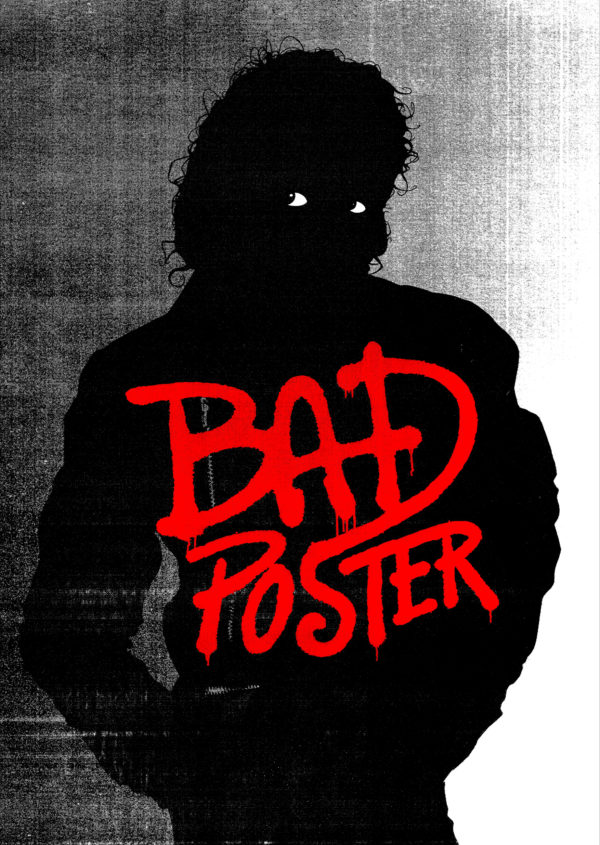 Michał Matoszko
Bad Poster
A poster based on a motif taken from the classic pop album cover – Michael Jackson's Bad. I was inspired by characteristic pose, the title of the record and the singer's penetrating look. When I thought about the series of Bad Posters, it was the first, completely natural idea that came to my mind. Punk, anarchist use and transformation of an existing theme, taken from pop culture. I simplify motif, leave only black shape and mysterious look. I tried to create mysterious, slightly grotesque, dark image with high power, simplicity and use appearance of a cult and controversial vocalist.
Poland
2019


Lena Christ
Migraine
This poster is meant to visualize typical migraine pain.
Disturbances of the visual field (flickering before the eyes, flashes of light, blurred vision) are very common. Aside from this speech problems can occur. This is caused by disturbed signal transmission in the brain. Like an electric pulse a wave of disturbance is shot from a single across the cerebral cortex.
The letters M-I-G-R-A-I-N-E are reconstructed to create cuts, doublings and displacements. This is meant to recreate the feeling of migraine attack for anyone looking at the poster.
Germany
2018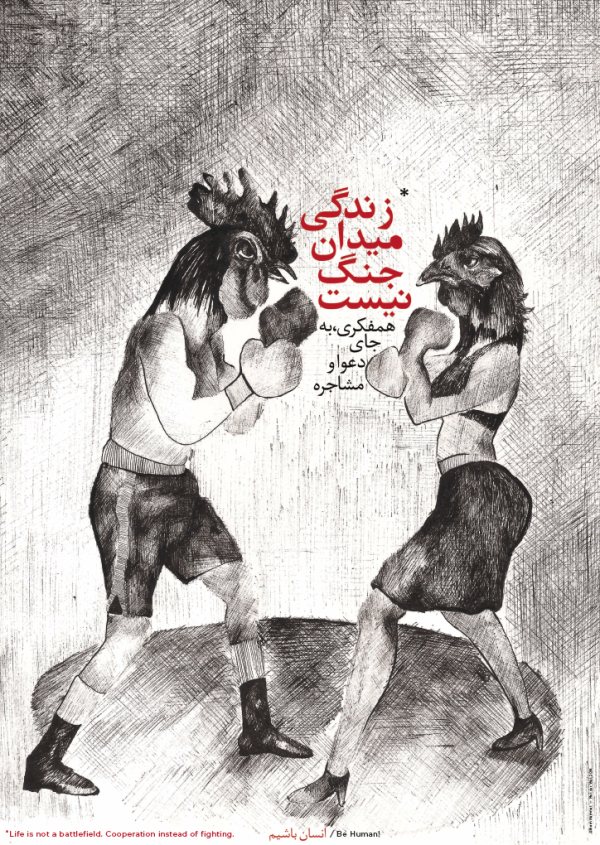 Elham Hemmat
Life is not a battlefield
Solutions instead of fighting and arguing!
In this work fighting men and women are compared with poultry. Problems shouldn´t be resolved through fighting, but peaceful consultation.
Iran
2014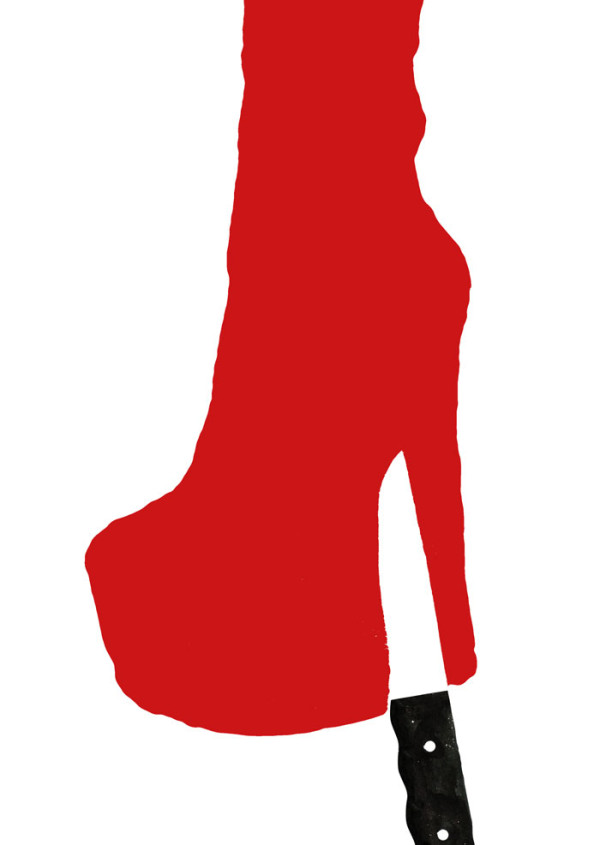 Till Kraschutzki
She never thought ending like this
None of them did. Trapped in a net of unscrupulous and avaricious human traffickers, all over the world hundreds of thousands women are accompanied by pain and anxiety – their whole life.
Germany
2016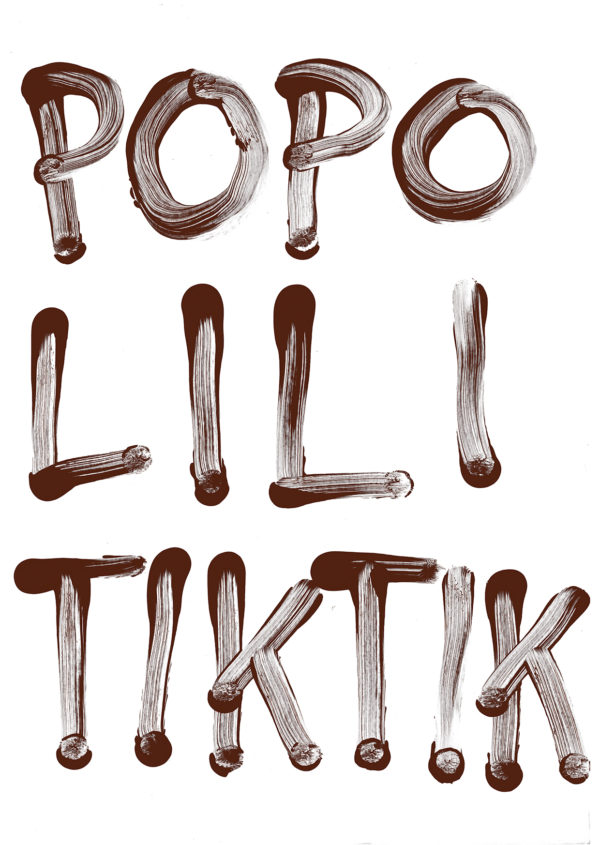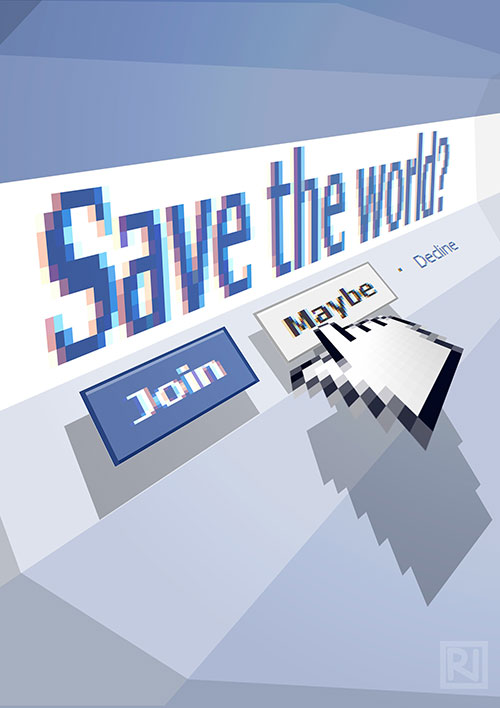 Rahul Nair
Commitment
Every day we have to make many decisions of varying importance. Thanks to e-mail and social media, we are flooded with information and a multitude of more choices. So how can we make the best decision? Do we have the courage to commit ourselves to a decision? Or should we postpone, or even just ignore it? Perhaps with a self-justification that 'maybe' a better choice may present itself in the future? This solution seems simple enough for us but yields no added value to the people affected, or does it? For my part I can say that it even pisses me off major league. A 'maybe' in itself is not evil and often essential. But it has mutated into a state of mind and a justification towards inaction. Beyond a doubt, this is dangerous. So snap out of lethargy and indifference, make a stand for things that matter and start committing yourselves to your convictions.
Germany
2012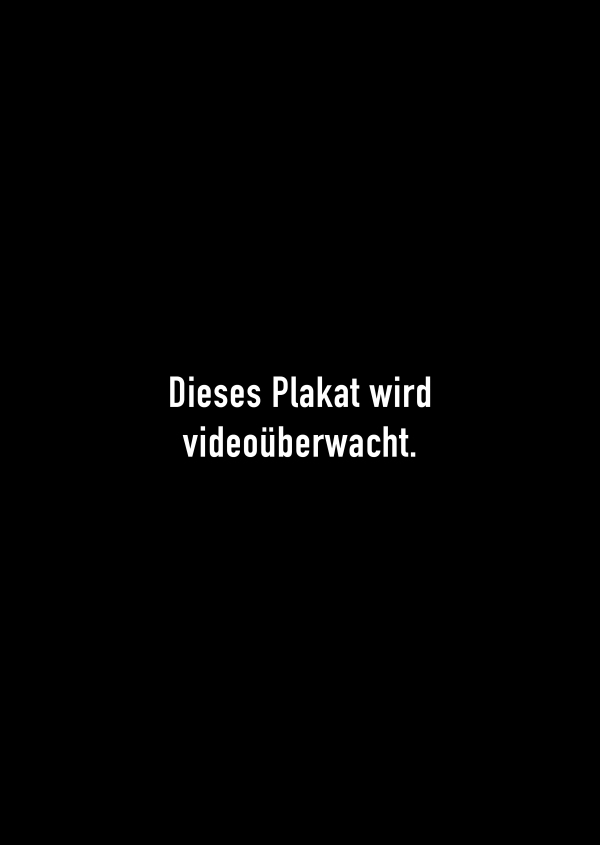 Florian Sommer
The state poster
An attempt to show the absurdity of government supervision with simple and minimal resources, and an appeal to everyone to rebel against it.
Germany
2013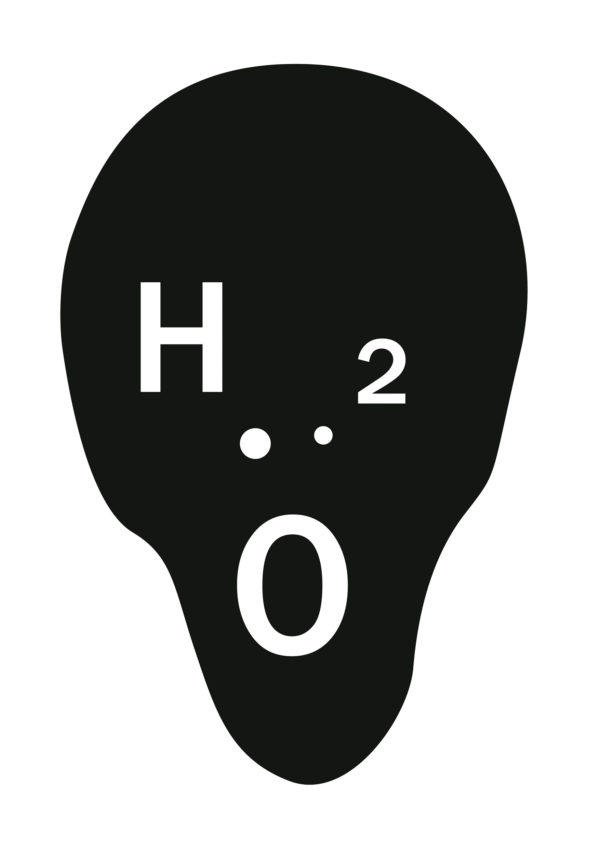 Erendida Mancilla
The Scream H2O
The theme of the poster is water as the most important natural resource and the basis for all life. It is a wake-up call about pollution and abuse in the use and consumption of this natural resource. If we do not take care of the water and continue the current trend this natural resource will have been consumed or will be so polluted that it will become practically useless. It is a scream for help.
Mexico
2018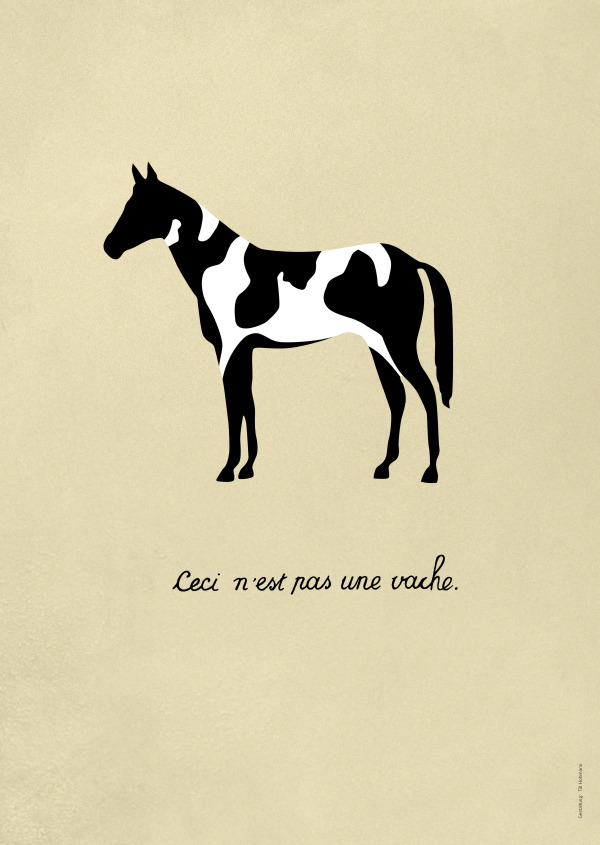 Till Hohmann
Une Vache?
Look fast, think fast, eat fast, live fast and die fast.
Germany
2013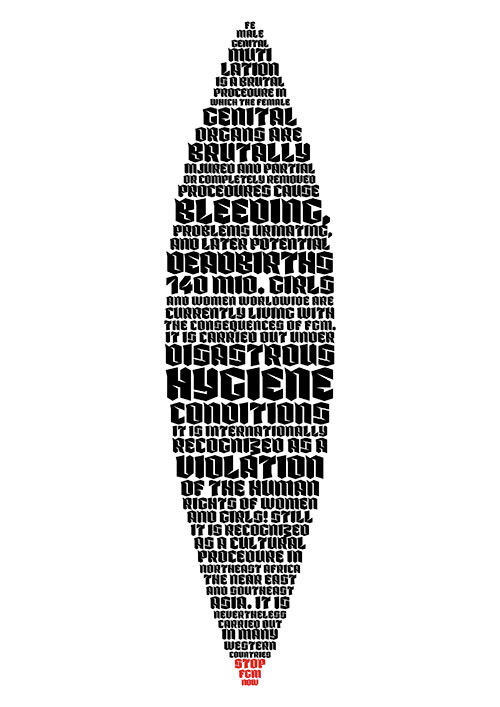 Michelle Flunger
Stop Female Genital Mutilation
The topic of my poster "Stop Female Genital Mutilation" is a much discussed theme in the human rights debate, nevertheless, most people do not know what exactly happens during the procedure and how cruel it actually is. This is what I tried to communicate with my motive, while displaying the shape of the female sex the poster gives brutal information in short and direct sentences. The font I used is called "Thorn" and has been designed by Hubert Jocham and is just the right font to emphasize the brutality of the procedure. FGM is, although it is a serious violation of the human rights, carried out in many regions, among them western countries (up to 500000 girls and women living in the European Union are affected or threatened by FGM). Just recently illegal procedures in South Africa (which is not even on the list of countries where FGM is practiced) have been discovered. After the terrible circumcision, these girls are branded with a mark on their thighs as evidence of having attended the procedure. We all need to raise awareness, Stop FGM Now!
Germany
2012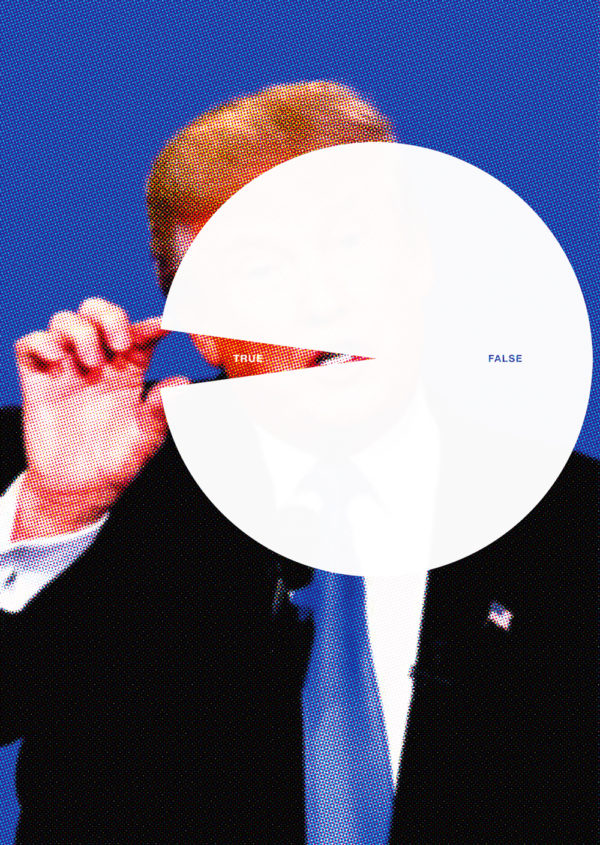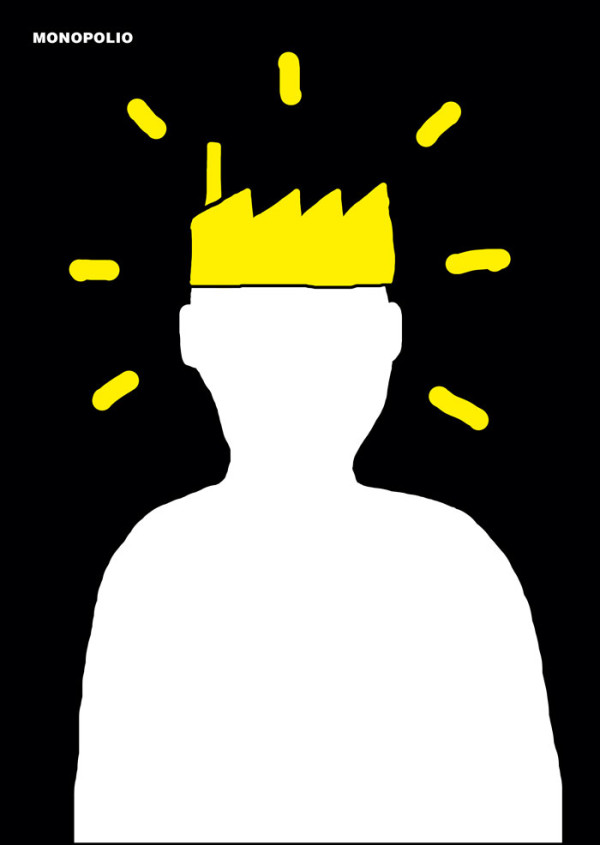 Miguel Angel Rangel
Monopoly
This poster was made to denounce the concept of corruption. It is a personal vision on monopolistic practices, an analogy between industry and the monarchy where there is a single leader.
Mexico
2016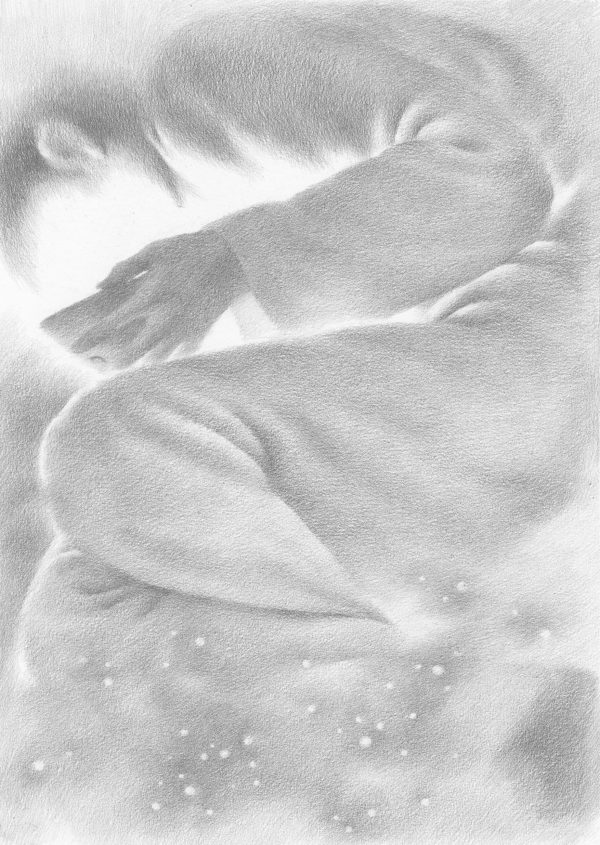 Minghao Zong
The Light
Light, symbolizing life, happiness, hope, justice and sacredness, conveys the most glorious and spectacular impression to mankind. While it has a guiding role, it can also cause the instinctive excitement and joy of all things of life. But we are at home with mobile phones in our hands, so where is the hope of mankind now? Where does this light lead us? Maybe in the next generation.
China
2021