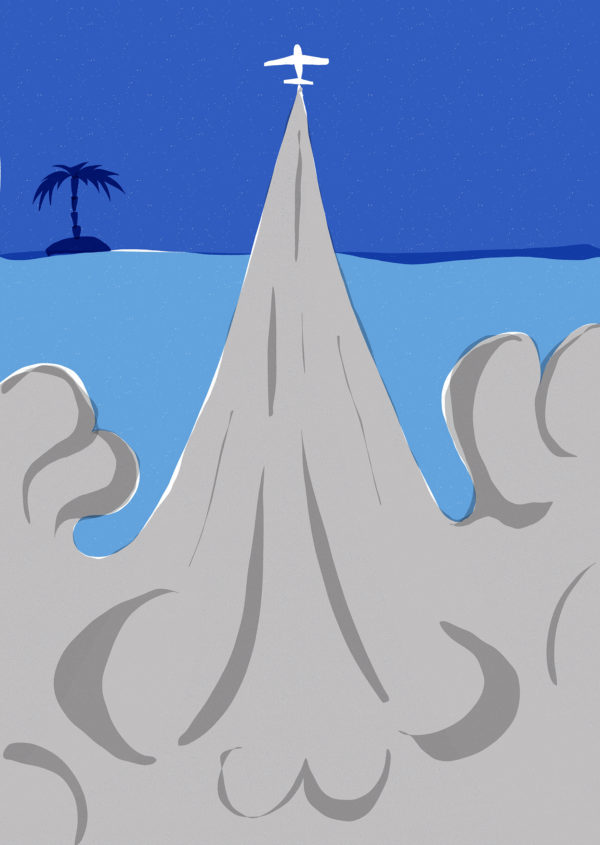 Sebastian Schellenberger
Happy Holidays
Consciousness for climate change is constantly growing. But while we're willing to make small changes in our everyday lives, there are still many areas that remain completely untouched in their immense carbon dioxide emission. Many people commute to work in order to save greenhouse gasses, but book a transatlantic flight for their hippie-holiday in Thailand. And while it's the most poolutive way of travel, airtravel makes up only 2% of worldwide greenhouse gas emmision. We need to think bigger then buying bio.
Germany
2019


Anja Bartelt
Lethargy
Like the fish in the water we are in our safe and peaceful environment. The feeling of helplessness turns us into passive observers.
Germany
2016


Tomaso Marcolla
Freedom of Expression
Each individual has the right of freedom of speech and expression. The freedom of information is the most important threat for antidemocratic regimes; hence, attacks against the freedom of speech are a daily occurrence on all continents. I have chosen the image of the famous videogame Pac-Man of the 80ies. Pac-Man consists of bullet casings and chases a pencil, the instrument of writing and the symbol of the freedom of expression, and tries to eat it.
Italy
2015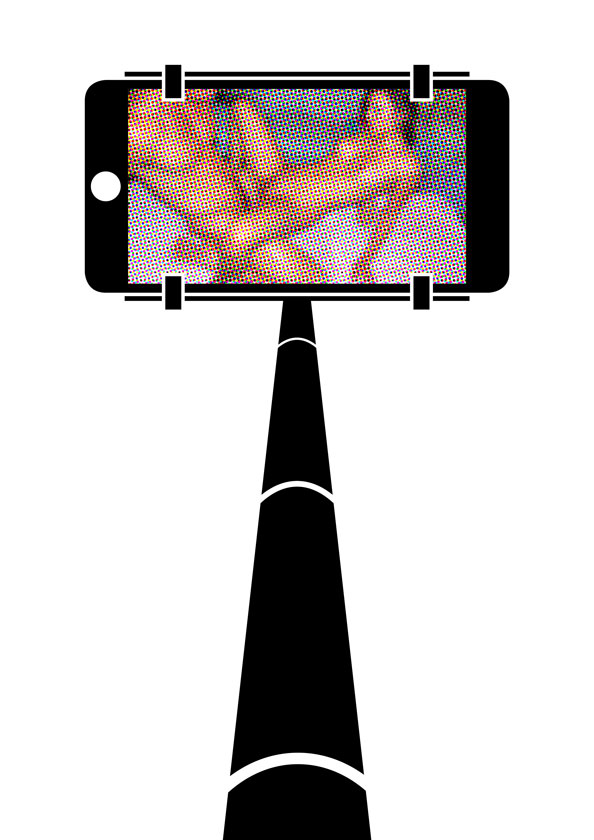 Daniel Kunze
Pornstick
The Age of the Selfies started long ago. Regardless of where we are or what we are doing, the only limit to seeing ourselves in our favorite pose, is the length of our own arm. Crafty inventors have become aware of this evolutionary disadvantage and developed the so-called »Selfie Stick«. It isn't naive to imagine the suitable content, the quick-to-adapt porn industry will soon uncover for this new communication channel (just as they have done with Video, DVD, Internet, Google Glasses, etc.). Because at the end of the day, us selfie-junkies are our own private paparazzis, trying to capture our exposed selves.
Germany
2015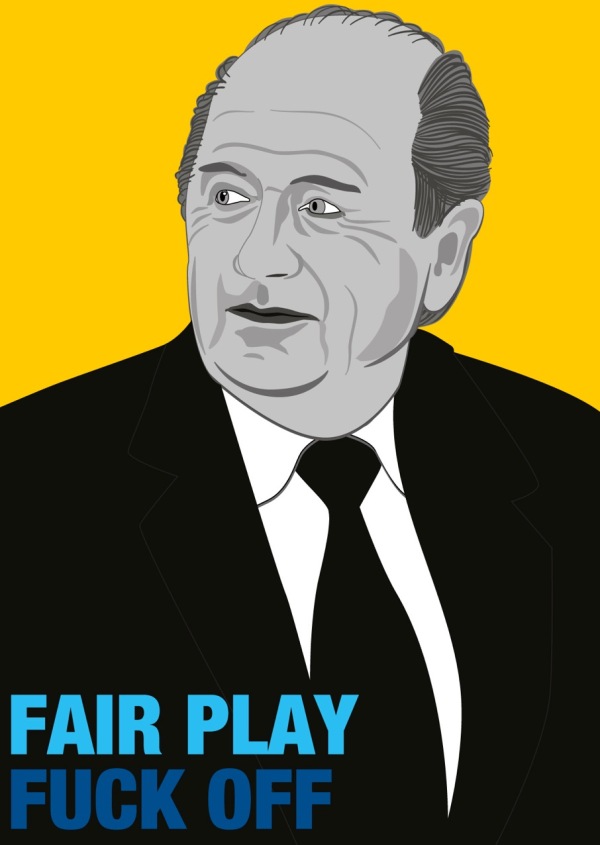 Steffen Bergemann
Fair play – FUCK OFF
Die Idee für mein Plakat entstand während der Präsidentschaftskandidatur Sepp Blatters für eine vierte Amtszeit als FIFA-Präsident.
Die FIFA stellt sich gerne als völkerverbindender, die Kulturen einender, Global Player dar. Was hinter verschlossenen Türen geschieht, hat allerdings nichts mit einem weltoffenen Unternehmen zu tun. Skurrile Entscheidungen werden von einem erlesenen Kreis von Funktionären getroffen: Die WM-Vergabe an Katar oder der Bau riesiger Stadien ohne nachhaltigen Nutzen für die Bevölkerung Südafrikas sind Beispiele dafür. Hier scheint es nur um das schnelle Geschäft und um maximalen Profit zu gehen. Die Korruptionsvorwürfe wollen nicht verstummen. Doch Kritik wird nicht geduldet, das System um jeden Preis erhalten.
Die Idee des globalen FAIR PLAY wird zum leeren Marketingversprechen. FUCK OFF ist meine Antwort darauf. Sie steht gleichzeitig für die Haltung der FIFA ihrem eigenem Claim gegenüber: Blatter hat ihn zu einer zynischen Worthülse degradiert.
Germany
2011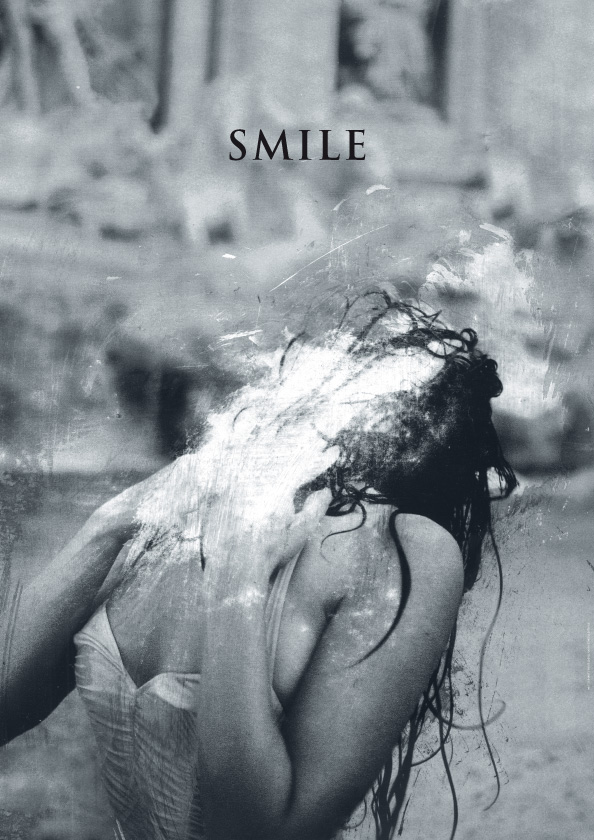 Germany
2010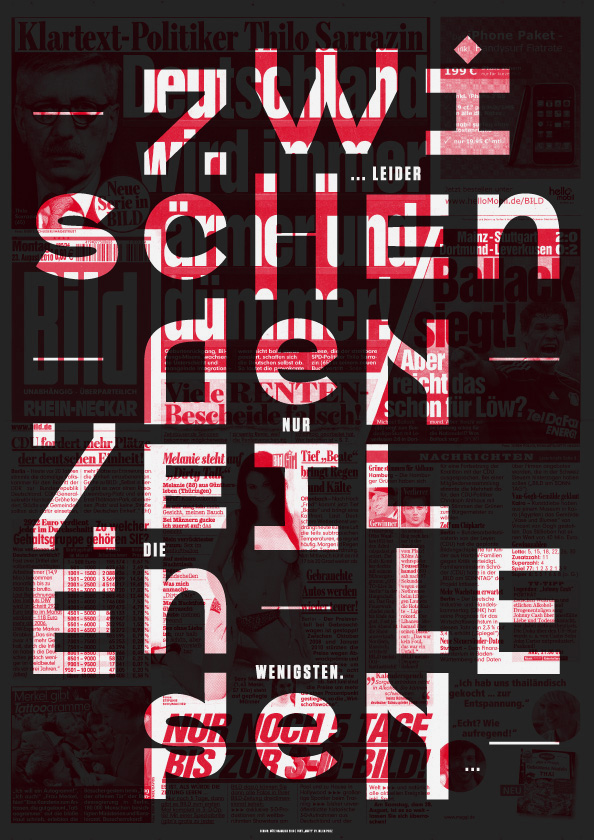 Götz Gramlich
Zwischen den Zeilen
Germany
2010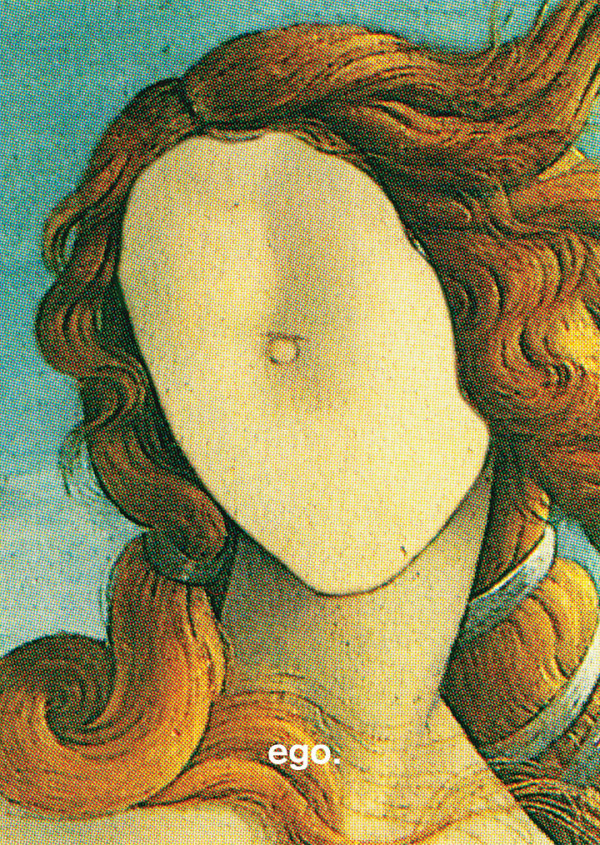 David Chénière
Ego
Rugged individualism is a common disease of our time. It is bound with selfishness and has many negative consequences at all levels. Excessive self-adoration leads to ignoring each other; each individual sees its own interests without consideration of the common good, while we live in a world, in which we are increasingly interdependent on each other.
To illustrate this idea, I chose to use an iconic image of pure beauty and transformed it thoroughly in order to create something monstrous. The belly button – is the center of the individual and moving it to the center of the Venuses face expresses this imbalance called "belly button gazing".
France
2014


Leandra Kleber
In your head
A little voice in our head. We trust it, as we feel it is our own. It knows what we want, what we need, what's right and wrong. It seems we have made up our own mind, relying on the "independent" and "trustworthy" information network Facebook. Though it is merely an echo-chamber created by algorithms, which constantly gives us this affirmation.
Who uses facebook anyway?
1,4 billion daily active users, and 2,2 billion users in total. That's more than a quarter of all people alive. In Europe and the US it makes up half the population. This enormous potential of influence is not only abused commercially, but also for political propaganda and manipulation.
Germany
2018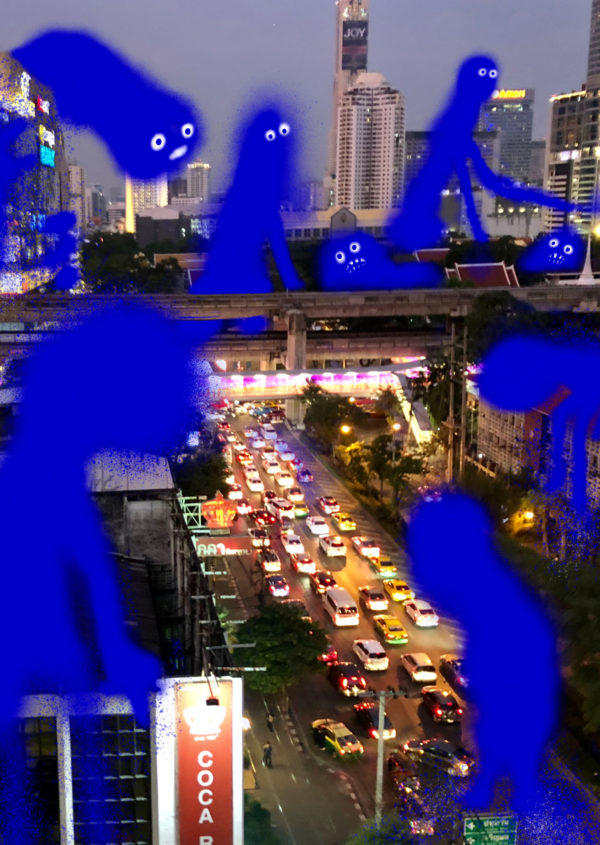 Piyapong Bhumichitra
Ghosts of Bankok
Bangkok is a city of animism where supernatural beings dwell in both natural and constructed objects. Tales of ghosts and superstitions are parts of our everyday life. There are two types of land spirits whose a majority of Thais believes in; Deity of the Land and Lord of the Place.
The blue ghosts seen in the poster represent the spirits in everyday sights throughout the city, the noble landlords who possess acres after acres of land. We, as Bangkok's ordinary people, can do nothing apart from watching them and paying for taxes and rents to them for the rest of our lives.
Thailand
2021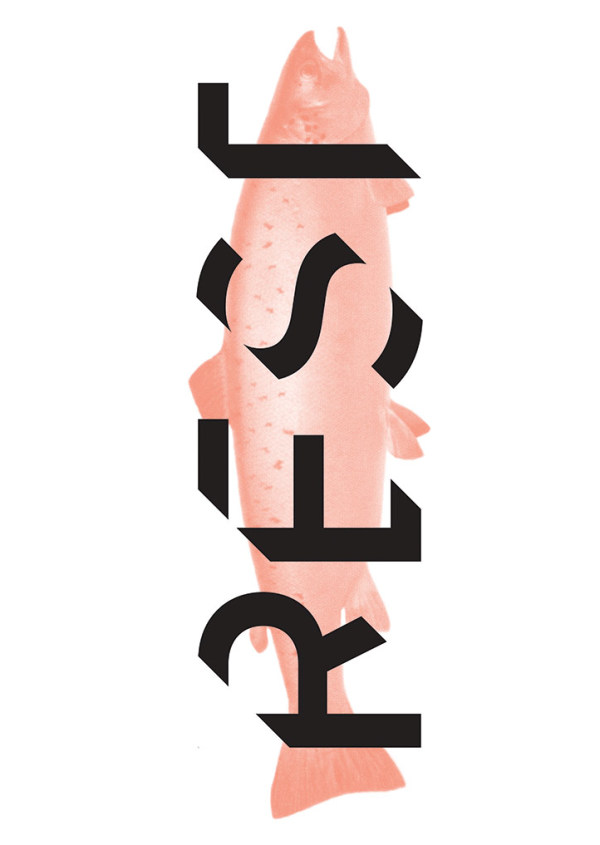 Michael Kunz & Emanuel Heim
Rest
"Fisches Nachtgesang" poem by Christian Morgenstern
—
⌣   ⌣
—   —   —
⌣   ⌣   ⌣   ⌣
—   —   —
⌣   ⌣   ⌣   ⌣
—   —   —
⌣   ⌣   ⌣   ⌣
—   —   —
⌣   ⌣   ⌣   ⌣
—   —   —
⌣   ⌣
—
Switzerland
2014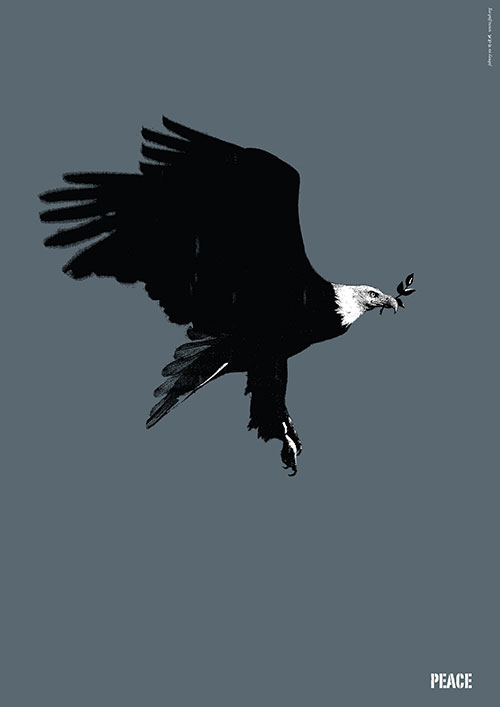 Johnny Xu
Peace?
The background why I created it: The most of people in the world long for a peaceful and happy life without guns and blood. But to be the different Union there are different conflicts of interest, in this situation, some super nations arbitrary interfere others. For example the Iraq War 2007 and today's Syrian War.
China
2012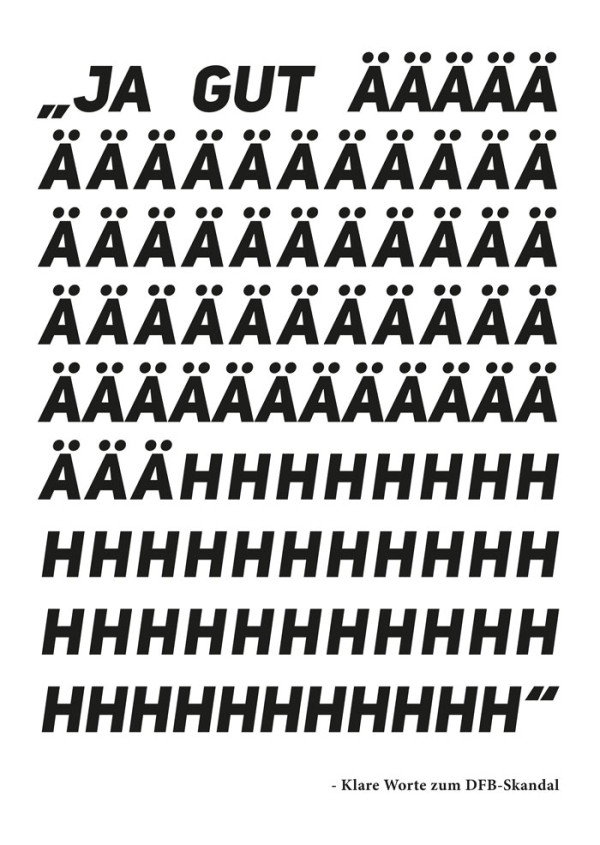 Thomas Deser
Clear Words
Unsolved Payments, which apparently nobody knows about. Corruption scandals cast a shadow over the world of soccer. My poster puts the trouble in explaining of the German Football Association in a nutshell by imitating the rhetorical skills of Franz Beckenbauer.
Germany
2016


Jan Aniobi
No Posters. Discussions!
The poster takes up on the design of typical german prohibition signs and their language. There are many prohibition signs in Germany and the yellow ones with black borders are a common sight. Often applied to guard against trespassing or to keep people from putting up posters.
The signal effect and imperative nature of these signs is retained in order to play with familiar visual patterns. The command "Diskutieren statt plakatieren!" could roughly translate to "No Posters. Discussions!"
On the surface "Diskutieren statt plakatieren!" looks like a prohibition sign but beneath that is a demand for a more nuanced culture of discussion beyond slogans and the language of campaigning.
Germany
2016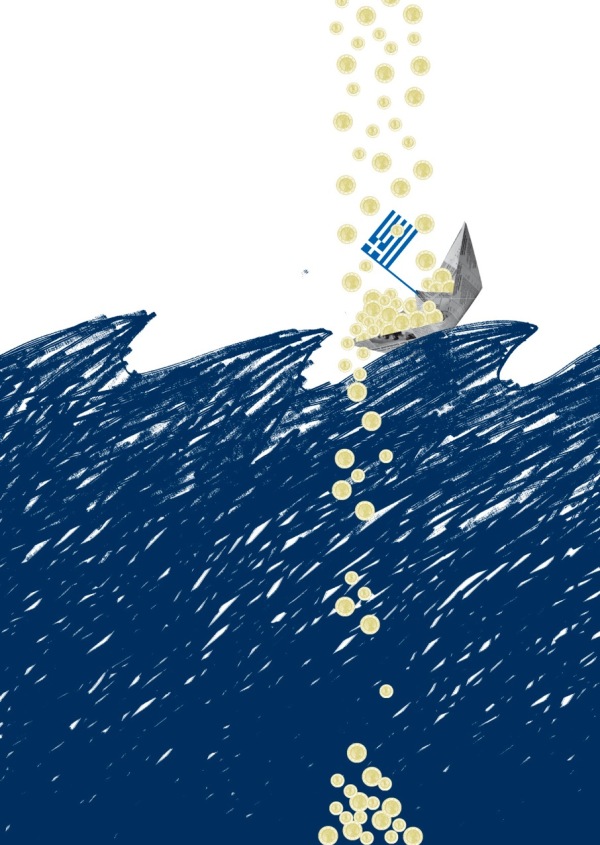 Grit Fiedler
Greece
Das sinkende Schiff.
Es scheint ein finanzieller Tsunami durch Europa zu brausen. Indem wir die anderen retten, versuchen wir uns selbst zu retten, um in einem aussichtslosen Versuch der Schulden Herr zu werden.
Germany
2011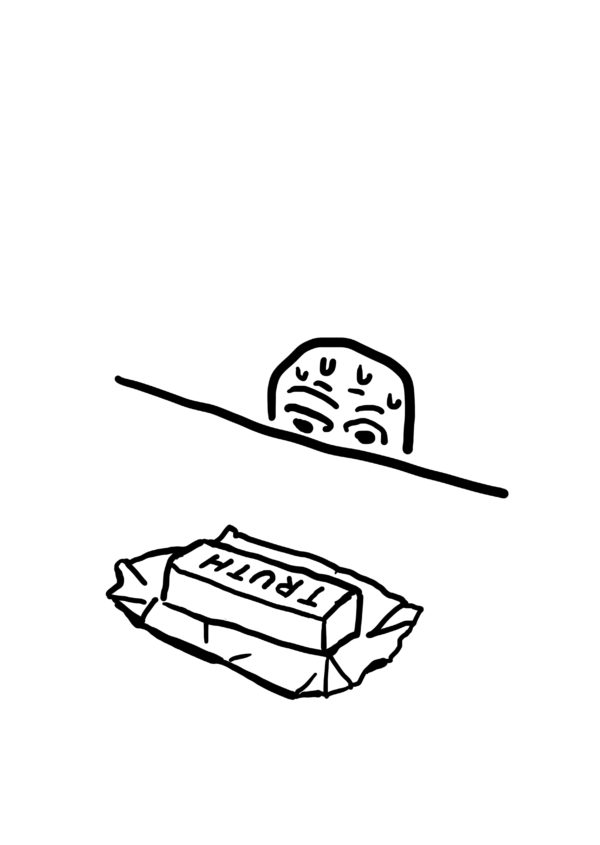 Martin Rybacki
Truth
A person is noticibly nervous and even frightened by what reveals itself on the table after the package is opened – the person is frightened so much that he or she almost does not dare to look at it.
My idea deals with the individual and his or her fear and unwillingness to accept personal responsibility for the (often brutal) truth in his or her own life. The opportunity to bear this responsibility reveals itself not only in difficult situations but also in seemingly trivial ones. I believe that avoiding your responsibility for the truth has severe individual and global consequences.
Germany
2017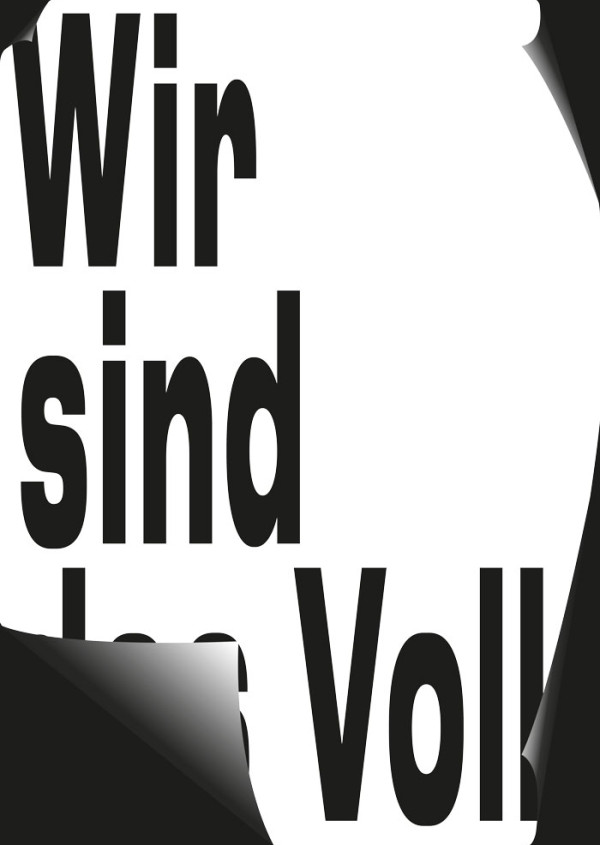 Hendrik Schwab
We are!
We are the people! (Wir sind das Volk!) The chants of the german reunification were the term for the peaceful break, now they are used by racist movements to demonstrate clumsy pure hatred:
"We are full (Wir sind voll), there is no space for refugees, no space for new ideas. We are full of fear of the unknown, full of the wrong answers to the wrong questions."
You are filled! Sober up!
Germany
2016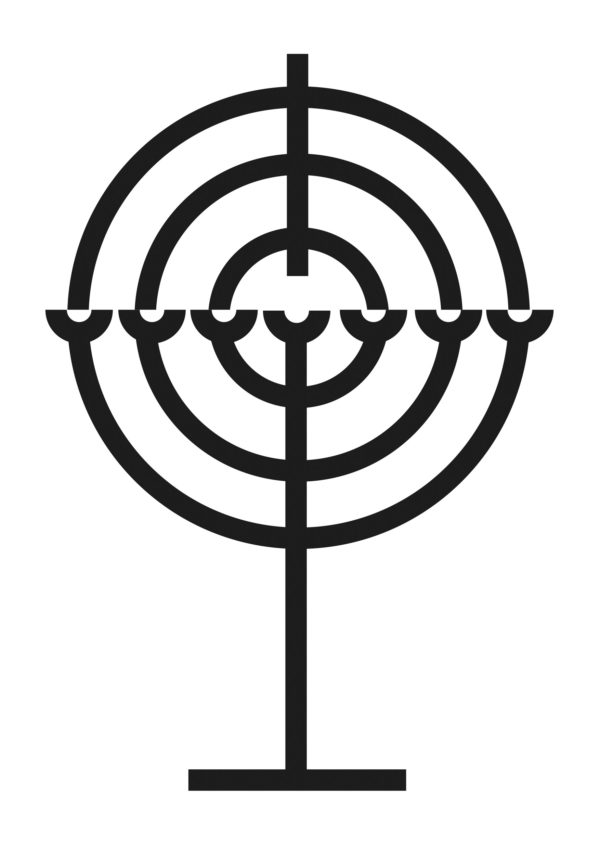 Marek Slipek
In the Sight – Anti-Semitism in Germany
Anti-Semitic incidents are flaring up again at an alarming rate in Germany.
Jews have been the target of hatred and incitement, not only since Halle – acts of violence, insults or incitement of the people. Jewish citizens are rightly concerned. Together we must take action against emerging anti-Semitism and raise awareness and consciousness in society.
Germany
2021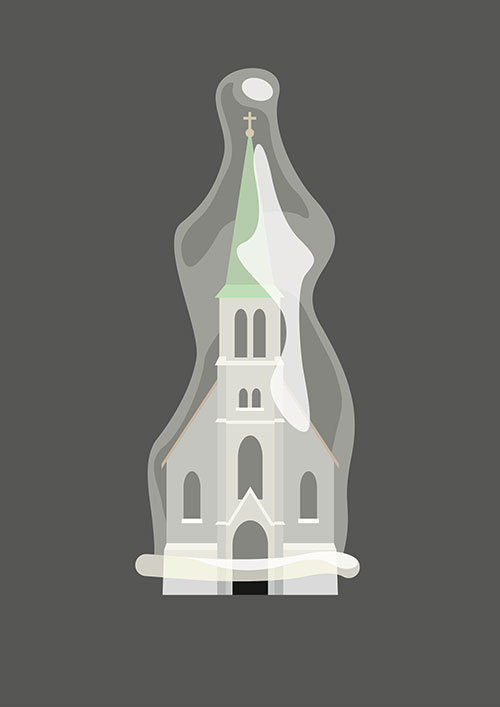 Julien Joliat
Pandemic
Love life, stop fanaticism.
Switzerland
2012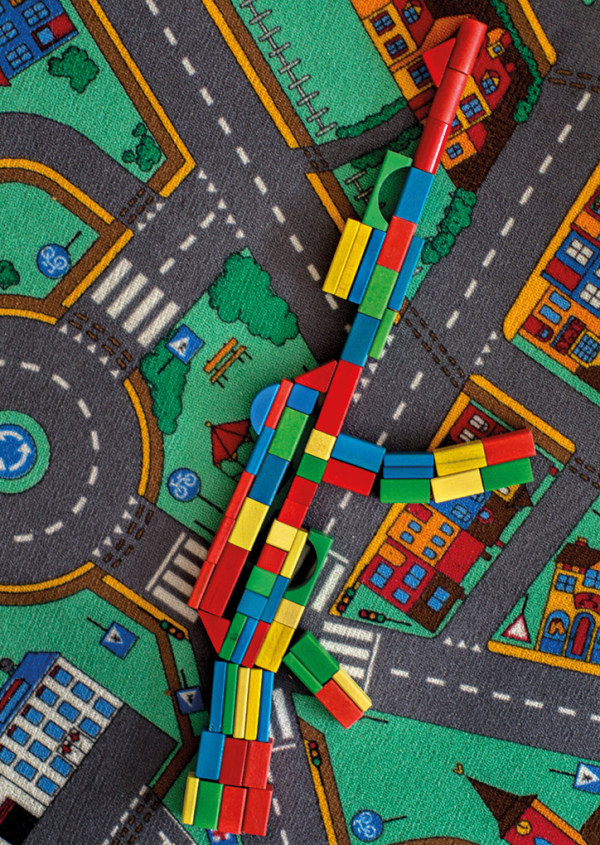 Nam Hoang-Golz
Not always a game
This poster shows the game world of a small child with the central theme of war, the Kalashnikov, build out of blocks. War is not a game and children should not be tempted to the use of weapons, either caused by media in our western culture or as child soldiers in armed conflicts.
Germany
2014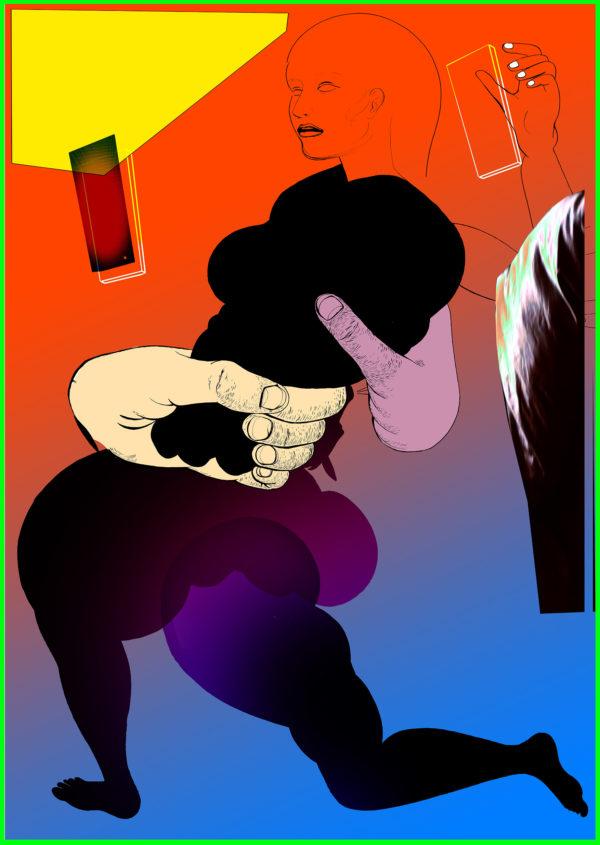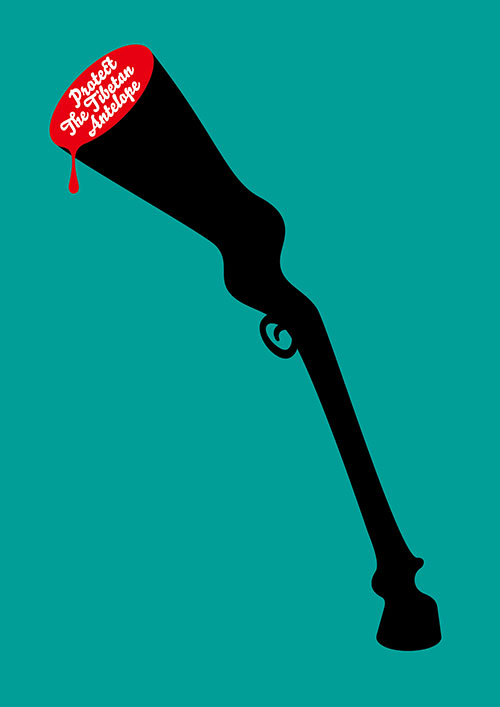 Che Liang
Poach
1.  The Tibetan antelope is facing a massacre.
2. Shotguns are the embodiment of greed and ignorance.
3. No killing, no trading.
China
2012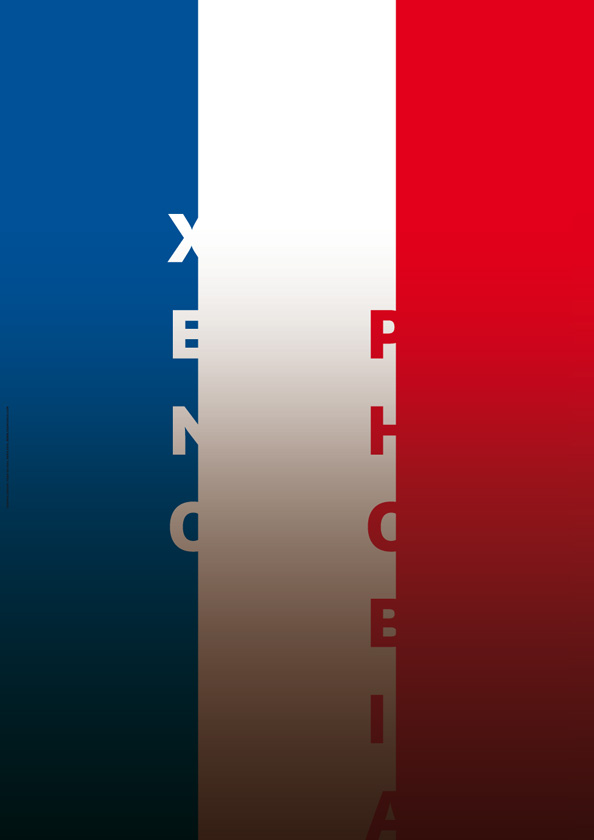 Germany
2010


Bianca Consiglio
Sea Holiday
The poster represents the contradiction between the Mediterranean sea as a holiday destination for people living in well-being and the sea as a place of death for the refugees and the desperate who cross it in search of a better life. On the inflatable mat of a charming pink a white woman sunbathes with sunglasses indifferent to corpses on the seabed. In the same way the well-being of the first world floats on the exploitation of the poorest areas of the world.
Italy
2019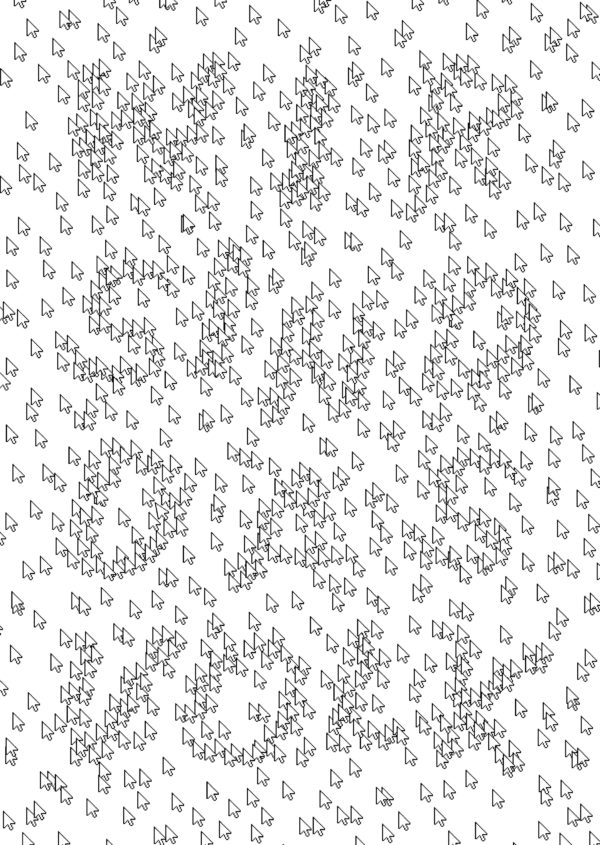 Finn Reimer
We are the people
This poster depicts a political slogan chanted in the Monday demonstrations in 1989/1990, as a protest against the GDR government.
Nowadays the masses have found the internet to voice protest and express their opinion. Anytime and immediately on can exert influence through online petitions, in comment sections or by hitting like buttons. The poster shows this shift in our culture of demonstration by a swarm of mouse pointers and thereby shows how a large number of individual elements can shape the public understanding.
Germany
2017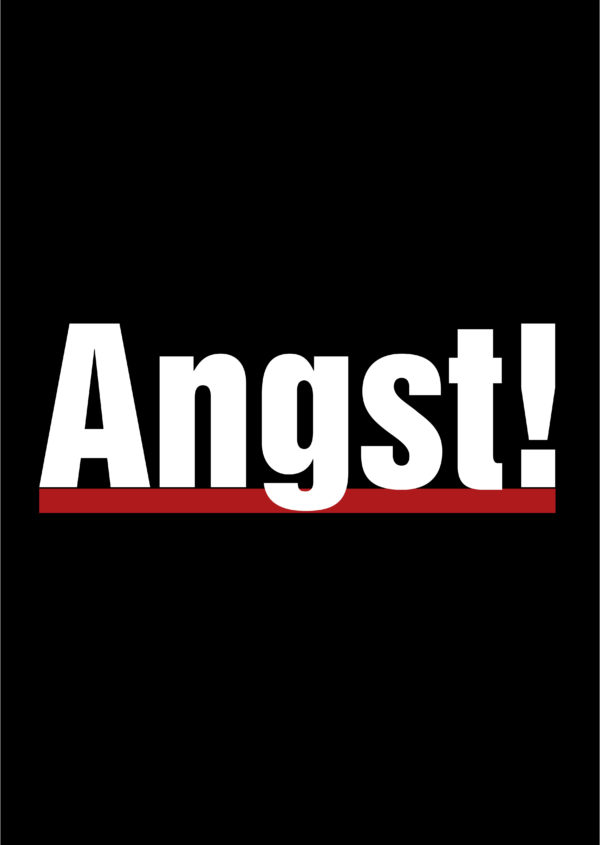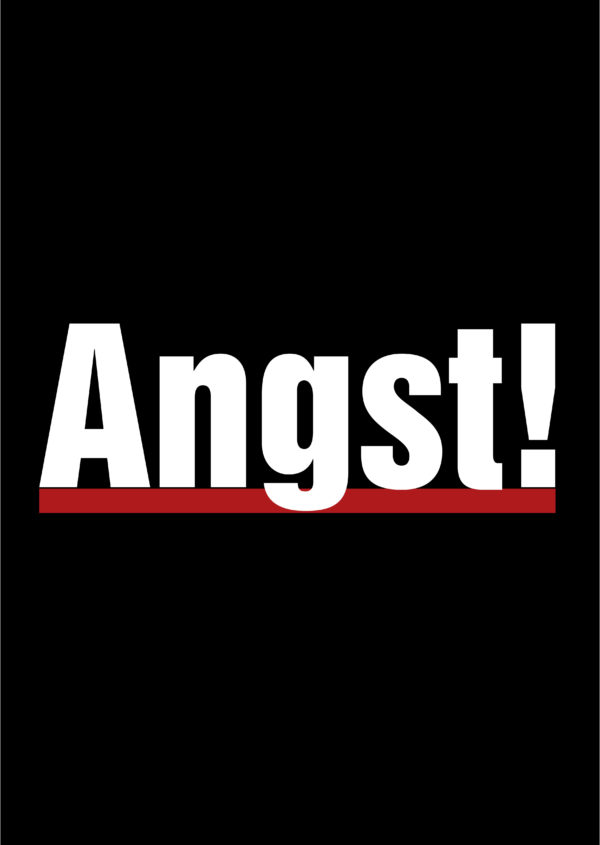 Jonas Wolff
"Angst!"/"Fear!"
BILD is a german newspaper, known for its unmistakable style of headlines. By using the same corporate identity, this poster shows the functioning of BILD: The sensationalistic articles are aiming to incite fear in society.
Germany
2018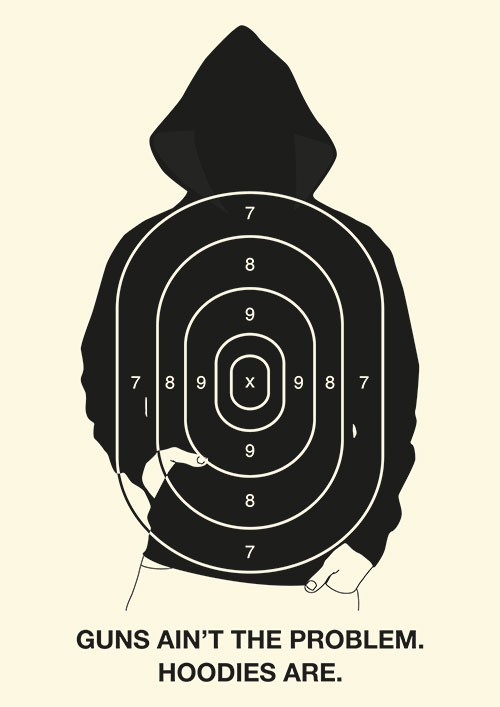 Michael Allocca
Guns don´t kill people, hoodies do
The case of Trayvon Martin, a 17 year old black teenager recently killed in Florida by George Zimmerman (an armed neighborhood watch captain) and the related comments about the dress codes of an especially black and Latin American youth illustrates how the Conservative mind in the U.S.A. works. Guns can never be the problem, so something else must be the problem.
Germany
2012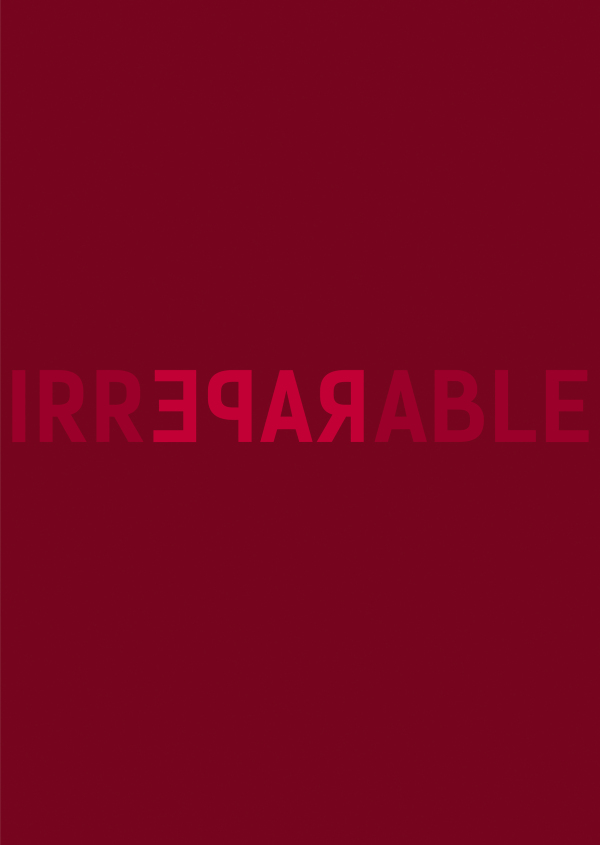 Sandra Loser
Rape
Daily, throughout the whole world, not only in India, there are crime scenes of brutal rapes.
My work calls for the observer to reflect, but still gives them the freedom to imagine the extent of the serious injuries of a rape victim.
At the same time the ever increasing red tones – the strongest being the word "rape" visualizes the damage which is irreparable.
Switzerland
2013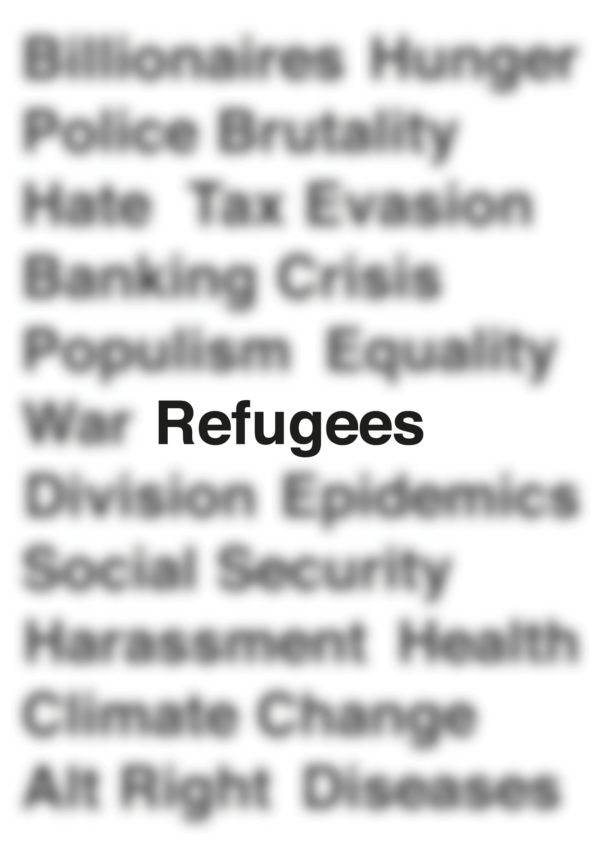 Mario Kupcevsky
Shortsighted
There are so many problems in this world that need our attention and will to change. But we focus on a poor group of people fleeing violence and war, whilst our society is being dismantled by powerful interest groups and our environment is going down the drain for profit of the very same groups. We need to focus instead of listening to self-invested politicians and profit oriented media. We also tend to forget that everything is connected and all the issues can not be seen individually – but together. Most of the blurred words amongst others are direct causes for the refugees in focus.
Austria
2019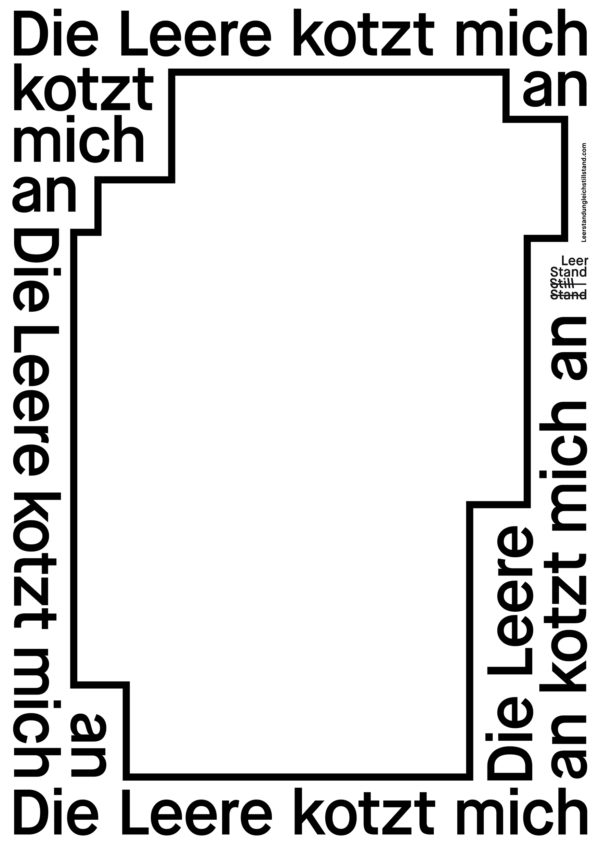 Vivien Staff
The Emptiness sickens me
Residential and commercial space has become a rare and expensive thing in cities. To achieve sustainable urban development one must properly handle resources, and this includes existing buildings. This is not a rational or social issue per say, but more a question of creating a space for fresh impulses. With the right amount of commitment, dedication and active involvement, we can create attractive new forms of utilization.
We must raise awareness of vacancy within the population of our cities, and this poster is designed to just that. The main message is aimed to make the issue up close and personal, by addressing us directly. The poster mourns the state of affairs, pressing us to change something about it.
Germany
2019